Associated Press Reports Florida Governor Rick Scott Re-Elected; Medical Marijuana Fails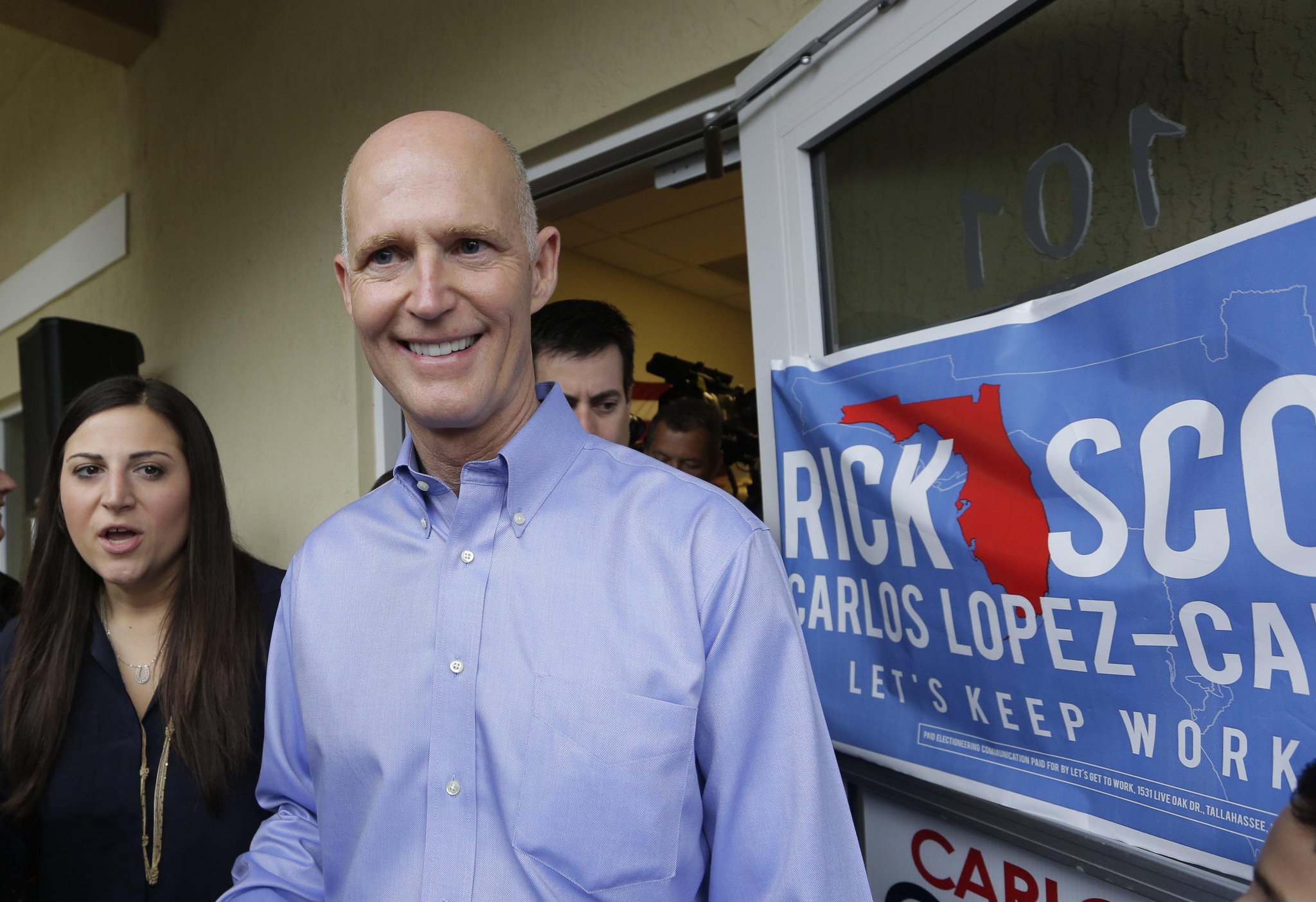 Above: Associated Press Reports Florida Governor Rick Scott Re-Elected (Photo Courtesy of the Miami Herald)
With returns in from 96.46 percent of statewide voting precincts and 48.3 percent of the vote, Florida Governor Rick Scott has been re-elected to another term, Associated Press reported at approximately 10:30 p.m. this evening, November 4, 2014. Democratic challenger Charlie Crist garnered 46.91 percent of voters, with Libertarian candidate Adrian Wyllie receiving 3.75 percent.
Crist, a former Florida Governor, had not yet conceded the race, inasmuch as Democratic-leaning precincts in areas such as Palm Beach County had not fully reported as of 10:45 p.m.
Florida's Attorney General Pam Bondi, Chief Financial Officer Jeff Atwater and Commissioner of Agriculture and Consumer Services Adam Putnam–all Republican members of Florida's Cabinet–also have been re-elected.
With reports of long lines at several predominantly African-American precincts in Democratic-dominated Broward County, coupled with alleged problems spawned by redistricting, the Crist campaign unsuccessfully filed a last-minute emergency injunction to request an extension of voting hours there.
Incumbent Republican Senators Jack Latvala, Joe Negron, Jeff Brandes and John Thrasher were easily re-elected. Senator Thrasher is expected to be confirmed as the President of Florida State University this week, which will cause a special election to be called in order to fill the resulting vacancy.
Among Democratic races called early in the evening's returns:
Incumbent Senator Maria Lorts Sachs won re-election over Republican challenger Ellyn Bogdanoff for District 34, which spans South Florida's tri-county area.
Joe Geller, brother of former Florida Senator Steve Geller, was elected to Florida House of Representatives' District 100 in Broward County.
Palm Beach County voters returned State Representative Mark Pafford to represent District 86 in the Florida House.
To see up-to-the minute election night data, go to: http://enight.elections.myflorida.com.
Should you have any questions or comments, please contact Colodny Fass.
Click here to follow Colodny Fass on Twitter (@ColodnyFassLaw)
To unsubscribe from this newsletter, please send an e-mail to Brooke Ellis at bellis@ColodnyFass.com.