Capitol to Courthouse Headliners: Monday, September 27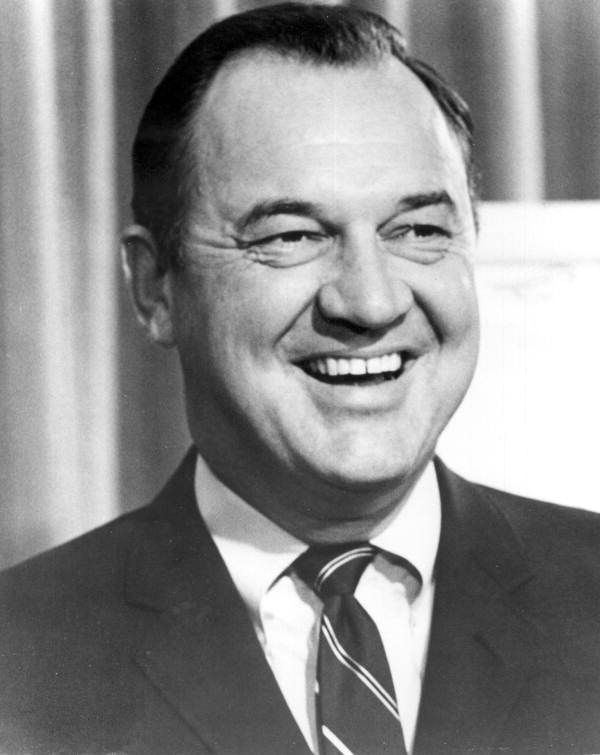 From today's Jacksonville Times-Union: Fifty years ago this week, Vice President Richard Nixon appointed then-American Heritage Life Insurance President Claude Kirk Jr. (above) to cull support for the Republican presidential ticket from among Democrats and Independents. Mr. Kirk was later elected as Florida's Governor.
To view a complete story, click on a headline below:
Tampa Bay area avoids double-digit Citizen's insurance increases
Tampa Bay has dodged the latest homeowner's insurance bullet.
Florida to seek waiver from health reform's medical loss ratio requirement
Florida's 14-member insurance advisory board has unanimously passed a resolution to seek a waiver from the health reform law's medical loss ratio.
Florida Blue concept stores taking hold, growing in state
Blue Cross and Blue Shield of Florida Inc. plans to build on the success of its Florida Blue stores, expanding in number and services as more people look to buy individual health insurance policies.
Florida Supreme Court asked to halt foreclosures amid probe
A Florida congressman has asked the state Supreme Court to stop all foreclosures being handled by three major law firms under investigation by the Florida Attorney General over questions about slipshod paperwork practices involving thousands of cases.
Florida could get two new congressional seats
Florida is likely to gain two new seats in Congress after the once-a-decade reapportionment because of population growth, according to new population estimates released this summer, a study out Sunday finds.
Crist gets endorsement from Wexler, a Democrat
Former Democratic Congressman Robert Wexler has made his support of Gov. Charlie Crist official.
Florida GOP donors appeal ruling on Crist refunds
Republican contributors to Gov. Charlie Crist's independent campaign for the U.S. Senate aren't giving up their quest for refunds.
Where Florida's stimulus money has gone
From $200 million for electric meters to $302.50 for new threads, how the stimulus money was — and still is — being allocated in Florida
A professor at Florida International University won $60,000 to research a rise in litigious Peruvians during the 18th century.
Vice President Biden raises $500K in South Florida for state Democratic candidates
Less than six weeks out from a high-stakes election, Vice President Joe Biden headlined a reception Friday that raised $500,000 for Florida Democrats jockeying to protect their majority in Washington and infiltrate GOP-controlled Tallahassee.
Meek woos unions, undecided voters
Kendrick Meek spent this past weekend touring what he called his own "yellow brick road," visiting labor unions, service worker conventions and airports and promising workers he will keep more jobs in Florida and prevent the privatization of Social Security if elected to the U.S. Senate.
Blog: Republican state Sen. Villalobos endorses Sink
It's the season of the surprise endorsement. Earlier today, Republican state Sen. Alex Villalobos announced he was supporting Democrat Alex Sink for governor over Republican candidate Rick Scott.
A look at Alex Sink's and Rick Scott's budget plans for Florida
Both unveiled a number of recommendations on government waste
In a year when anti-government sentiment seems to be almost as deep as a willingness to turn out incumbents, the state's gubernatorial candidates are trying to sell voters on their ability to rein in waste.
Report hits issue Sink, Scott agree on: merit pay for teachers
Republican Rick Scott and Democrat Alex Sink don't agree on a lot.
Candidates for Florida CFO provide a contrast
The top two candidates for chief financial officer offer voters a stark contrast – Jeff Atwater, the Republican Senate president and banker from North Palm Beach, and Loranne Ausley, a Democratic former House member and a pedigreed lawyer from Tallahassee.
Write-in candidates bring more intrigue to bizarre Florida Senate race
Derek Crabb spends his days amid the dog toys and cat litter bin at the Carrollwood Petco store.
Former legislator, tea party candidate battle for District 90
Slosberg, Rampersad in state House race
A former state legislator on a comeback bid and a political novice with a tea party philosophy are competing for the District 90 State House seat on the Nov. 2 ballot.
Uneasy political environment encourages challengers in race for Congress
The first time he ran for Congress, U.S. Rep. Allen Boyd had his mother reply to some harsh attacks with a homespun TV ad saying she'd like to wash his opponent's mouth out with soap.
Elections being decided in early voting
Election Day already is over for thousands of Floridians.
West Palm Beach mortgage servicer loses $13M verdict
Ocwen Financial Corp. said it lost a $12.7 million jury verdict tied to its former bank subsidiary.
Another Florida bank closed, raising failures to 126 this year
Regulators on Friday shut down a small bank in Florida, lifting to 126 the number of U.S. bank failures this year. The Federal Deposit Insurance Corp. took over Haven Trust Bank Florida of Ponte Vedra Beach. First Southern Bank, based in Boca Raton, Fla., agreed to assume the assets and deposits of the failed bank.
Florida construction jobs continue freefall
Construction employment grew in 56 out of 337 metropolitan areas between August 2009 and August 2010, but none were in South Florida.
Ruling on young, violent lifers puts Florida justice on the spot
A U.S. Supreme Court ruling banning life sentences for a class of violent juveniles has put Florida in a legal quandary when deciding the offenders' new prison terms
Kyan Bucknor was 15 in 1999 when he shot two patrons and unleashed a volley of bullets into Broward Sheriff's Office deputy Al Hibbert outside a Lauderdale Lakes nightclub.
Column: The $455 billion that no one from Florida wants to cut
There's rare bipartisan agreement in Congress on a big issue that affects Florida in particular. Unfortunately, it's the wrong sort of bipartisan agreement.
GUIDE: Get the lowdown on the 6 proposed state amendments
There are too many, they're convolutedly worded and most people don't bother to look at them until they enter the ballot box, if then.
Judge Grants Final Approval Of $72.5M Hartford Settlement
Putting an end to about five years of litigation, a federal judge in Connecticut has given her final approval of a $72.5 million settlement involving The Hartford Financial Services Group.
News Release: Morningstar Introduces Insurance Credit Ratings
In late 2009, Morningstar announced the launch of corporate credit ratings, and, in July, we announced the launch of corporate credit ratings for banks.
N.Y. Regulator Seeks To Revise Homeowners Coverage
New York's insurance regulator has outlined several proposals to ensure consumers have access to homeowners insurance, but insurance associations believe he is fixing a problem that doesn't exist.
Mississippi Insurance Chief Pushes Back At Allstate Rate Complaint
Allstate Insurance alleges that Mississippi's insurance chief ignored an internal actuarial report that justifies the insurer's request for a 44 percent rate increase when he denied the bid. But Insurance Commissioner Mike Chaney says that he reviewed not just one but several actuarial reports in deciding to reject Allstate's rate request.
Study Finds Louisiana Making Substantial Efforts to Improve Building Codes
Louisiana has developed and implemented a more comprehensive and stronger building code than Mississippi and Alabama, according to a recent study conducted by the Institute for Business & Home Safety.
As Commercial Roofing Materials Change, So Do Risks
Commercial roofing, already complicated, is getting more so as new types and materials are being introduced, according to a leading engineer who specializes in assessing roof losses for insurers.
Michigan court insurance decision on insurance scoring is a victory for drivers
The Michigan Supreme Court recently ended a six-year, politically misguided crusade by the Granholm administration to deny thousands of Michigan drivers the benefit of rate discounts from insurance scoring.
California court: Workers' compensation exclusive remedy does not bar emotional distress claim
Workers compensation's exclusive remedy does not bar a claim for intentional infliction of emotional distress filed by a Qualcomm Inc. employee who alleged sexual harassment and discrimination, a California appeals court ruled Friday.
Workers' comp Initiative 1082 sparks heated fight in Washington state
An initiative to privatize workers' compensation is pitting some of the state's biggest industry and labor groups against each other to sway an electorate that's heavily undecided on the complicated measure.
California Modifies Privacy Regulations, Makes Insurance Shopping Easier
In what's being alled "a major victory for insurance agents and brokers," the California Department of Insurance has notified the California Office of Administrative Law of its intention to repeal certain portions of its privacy regulations.
New Hampshire Panel Mulls Rule Changes to Malpractice Fund
Senate members of the legislative rules committee have objected to rule changes for the malpractice insurance fund proposed by the New Hampshire insurance commissioner.
To unsubscribe from this newsletter, please send an email to bellis@cftlaw.com.